In 2015, Esencia worked alongside client Snow Victoria to promote ski holidays at the various Victorian based resorts by targeting both new and lapsed visitors, and by showcasing the depth of experiences on offer at the ski resorts.
Poor snow conditions due to climate change and Victoria's unpredictable weather patterns meant that many Australians did not consider the Victorian snow fields for a holiday, so our task was to build up a suite of positive press around the snow fields, and to launch the 2015 snow season in an impactful way.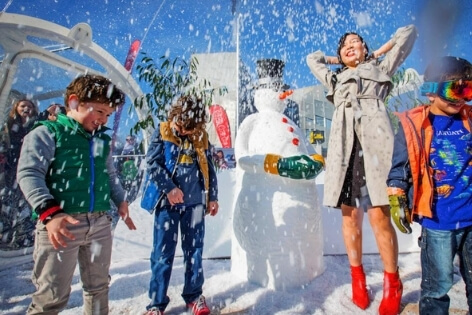 In just two months, we achieved coverage in the Herald Sun, The Age, Holidays for Kids, K-Zone Kids magazine, Tradie magazine, Little One magazine, RM Williams Outback magazine, the Weekly Times, on Studio 10 (Network Ten), Nova Radio, Australian Traveller and more.
Alongside the press campaign, we also appointed singer Dami Im as our ambassador and created an interactive consumer experience at Federation Square to launch the snow season. With Dami Im in attendance, we created a winter alpine scene, complete with 3 tonnes of real snow, and a giant, five-metre inflatable snow dome that people could step inside and have their photo taken to win a trip to the Victorian snow resorts.
The activation ran at capacity from the moment the snow dome opened, with over 1,000 people stepping inside. Esencia also hosted a media call, attended by Channel 7, 9 and 10 news, the Herald Sun, The Age, the Weekly Review, and Weekend Notes, all of whom provided editorial coverage.