On Saturday 21st July, Australians around the country stopped to salute the humble lamington on what was National Lamington Day. The largest lamington manufacturer in the country, Susan Day, wanted to celebrate this classic cake, and tasked Esencia with getting publicity for this Aussie icon.
The birth-place of the iconic lamington is Old Government House in Brisbane, where it was invented in 1900 for the wife of Queensland's eighth governor, Lady May Lamington.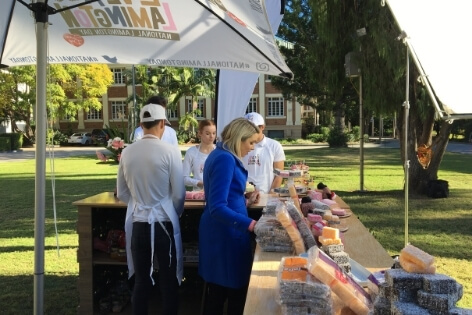 Our partner, Optimo Design, created a pop-up lamington bar at Old Government House and our job was to secure editorial for the bar, National Lamington Day, and Susan Day Cakes.
We successfully arranged for the Today Show to conduct their live weather crosses from the pop-up lamington bar, with each cross talking up the humble lamington and mentioning Susan Day Cakes.
We also managed an influencer and media relations campaign, resulting in press and social media mentions in outlets as wide-ranging as The Weekend Australian Magazine, The Party Bebe, Kidspot, I Eat Melbourne, Brisgrammer, and Mamamag.